Civil wedding in Volterra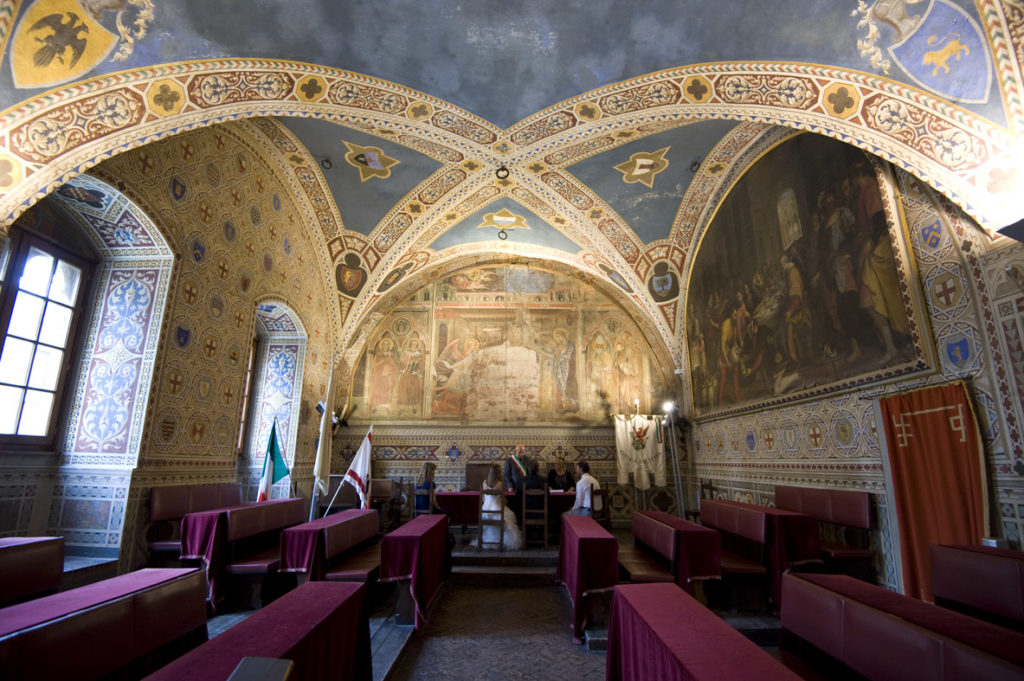 Barbara and Michael were both at their second wedding. They decided to do something totally different from their first experiences: getting married abroad.
Tuscany was a natural choice, as Michael's parents were born in a little town near Lucca. It was funny discovering that his grandmother had my same family name!
Despite both of them had teenage kids, they decided that the official beginning of their life as husband and wife should be a private event, just for the two of them. They wanted a simple and romantic wedding, with an accurate photo service, to bring back many happy memories for themselves and their family.
We reserved for them an honeymoon suite at the best hotel in town. The room was rather spacious to let Michael and Barbara get dressed without seeing each other. Barbara had brought with her a beautiful, slinky wedding dress: she is tall and slim, blonde with big blue eyes… she looked gorgeous.
Our make up artist proposed Barbara a very light make-up, as she is naturally beautiful. buy discount cocktail dresses online at dressbridal.uk
Michael and Barbara decided to reach the Town Hall by walk, as the hotel was close by. We "forced" them to leave the hotel separately and take two different ways – bride and groom must not meet before their wedding, it brings bad luck and we wanted that this time will be forever!
I walked with Barbara and it was very romantic to see people waiving their hands saying "auguri bella sposa" (best wishes, beautiful bride).
After the civil ceremony in the suggestive frescoed wedding room at the Town Hall, a toast all together: the couple, the Major and us. Once arrived back at the hotel, we left Michael and Barbara to relax before their romantic candle light wedding dinner at the hotel.