Romantic wedding in the vineyard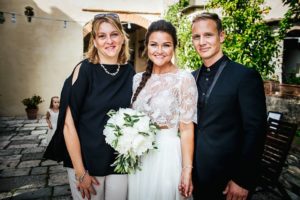 Elise and Hovard are from Norway. They chose to get married in Italy because their first experience of life together was in Rome, during a study abroad experience after college. In that occasion they visited around and fell in love with Tuscan art, food and wine.
Their ceremony took place in the splendid garden- vineyard of a noblemen Villa dating back 17th century. A warm, sunny September day and a romantic violin live music made the atmosphere even more special and moving!