Cooking | Cooking class and tour in Tuscany – 8 days/7 days
With this fantastic one week package, you will touch with your hands how food and wine are a very important part of our culture; thanks to our cooking lessons, you will take home a little bit of Italy and the tour will also allow you to discover the most beautiful towns of Tuscany and our lovely countryside.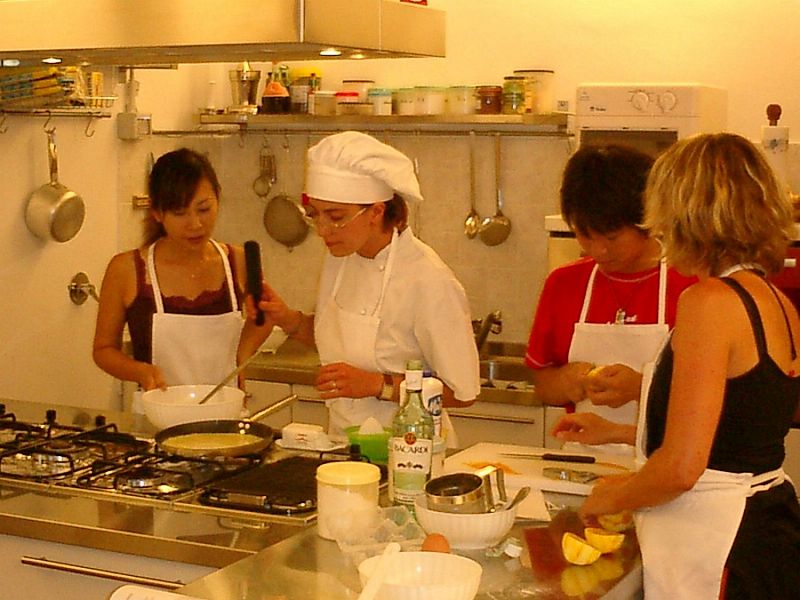 1st day Sunday – FLORENCE
Arrival at Florence airport/train station and transfer (not included) to the accommodation for the week. Check-in. In the afternoon half day guided tour of Florence, if allowed by flight schedule. Overnight stay.
2nd day Monday – COOKING CLASS IN FLORENCE
Breakfast; in the morning cooking class, starting with a visit to the food market to learn how to choose the best, freshest ingredients. Lunch based on the recipes prepared during the lesson. Afternoon at leisure (or half day guided visit of Florence if not effected on day 1). Overnight stay.
3rd day Tuesday – FLORENCE/CHIANTI AREA
Breakfast, morning at leisure. In the afternoon group excursion to Chianti area with food and wine tasting. A relaxing journey to discover Tuscany's traditional flavours and wonderful scenarios.
The visit will start in a typical farm in the heart of Tuscany, tasting genuine, local products such as extra virgin olive oil and cold cuts.
After a ride through the scenic roads of Chianti's countryside, stop to a cellar where a wine tasting with light snacks will be enjoyed in a breathtaking landscape.
Third stop is in Monteriggioni, a lovely medieval town-fortress, with free time to wander through the narrow alleys of the village. The return to Florence is scheduled in the late afternoon.
Overnight in Florence.
4th day Wednesday – FLORENCE/ PISA
Breakfast, half day group excursion to Pisa, famous for its architectural beauty. Tour includes a morning visit of the majestic Piazza dei Miracoli with entrance to the Cathedral and visit to the Baptistery (exterior) and the Leaning tower (exterior). Free time before departure to Florence.
Afternoon and dinner at leisure. Overnight stay
5th day Thursday – FLORENCE COOKING CLASS PIZZA AND GELATO WITH DINNER
Breakfast; morning and lunch at leisure. In the afternoon group cooking class to learn how to make pizza and gelato. Dinner based on the food prepared.
Overnight in Florence
6th day Friday – FLORENCE CHOCOLATE TASTING /THE MALL (SHOPPING OUTLET)
Breakfast, in the morning chocolate tasting in a traditional shop. Lunch at leisure. In the afternoon, group transfer to "The Mall" a shopping outlet near Florence with shops of many famous designers such as Gucci and Prada and other prestigious Italian Fashion Houses.
Dinner at leisure and overnight stay.
7th day Saturday – FLORENCE/SIENA AND SAN GIMIGNANO
Breakfast at the hotel, full day excursion to Siena and San Gimignano. A wonderful journey into Tuscany, to discover the medieval lanes of Siena, and taste Tuscan specialties.
The first stop is in Siena, suggestive world-famous medieval city, known for its splendid shell shaped Piazza del Campo, where "Il Palio" , the traditional horse race, takes place twice a year.
San Gimignano, known as "the town of 7 towers" is one of the most fascinating and better preserved Medieval towns of Italy. It is famous for its many coloured food shops as well as for the production of saffron and white wine "Vernaccia". Return to Florence, dinner at leisure and overnight stay.
8th day Sunday – FLORENCE/AIRPORT
After breakfast transfer to Florence airport.
The package includes:
Luxury bus transfers
Guided tour in Florence performed by professional English speaking guide.
Accommodation in centrally located 3* hotels.
Group guided excursions and cooking classes
Entrance with tasting to wine/food facilities.
The package does not include:
Transfers from/to airport to the hotel (we suggest to take a taxi)
Meals
Tips
Tourist city tax (€ 3 pp pd approx)
Personal purchases and mini bar at the hotel
Tour available all year round, starting from Sunday to Sunday, due to group excursions/cooking class schedule.