Cooking | Wine tour in Tuscany – 8 days / 7 nights
A special tour through Tuscany, its delicious food and its world celebrated wines: the Vernaccia (San Gimignano), the Brunello (Montalcino), the Noble (Montepulciano) and others. It will be an unforgettable experience.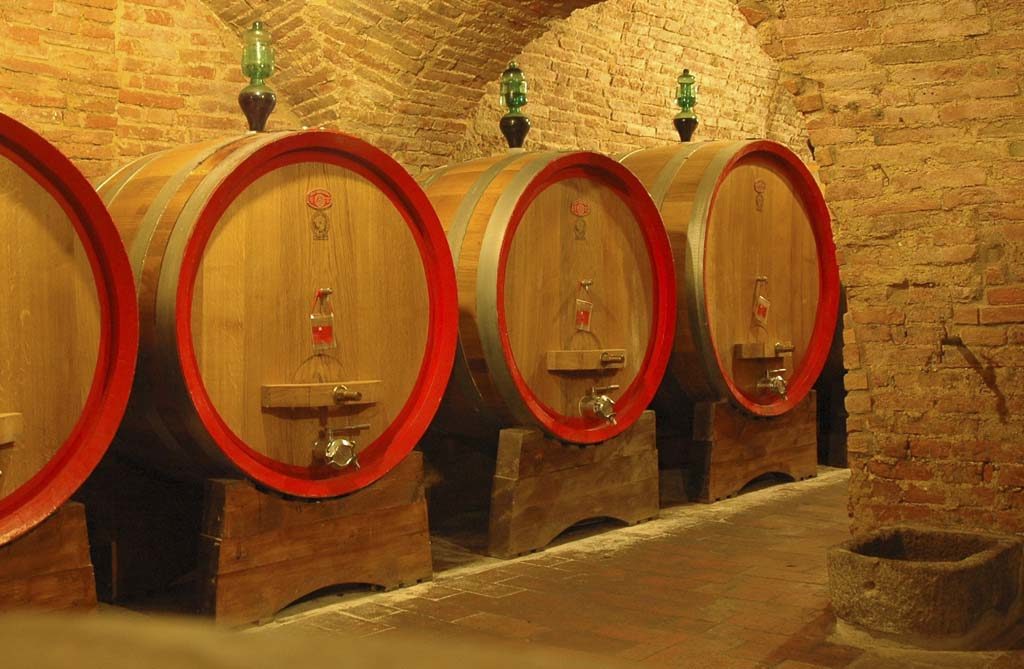 1st day Monday – ARRIVAL IN FLORENCE
Arrival at Florence airport or station, transfer on your own to the hotel. In the afternoon guided visit of the town.Overnight stay.
Florence is a town of timeless charm, one of the most important cities of artistic interest in the world. The cult of beauty is everywhere: wonderful buildings, beautiful squares and extraordinary landscapes are blended harmoniously with Tuscan traditions.
Piazzale Michelangelo, Ponte Vecchio and Palazzo Vecchio, Santa Croce Basilica, the Duomo, are just a few of the sites that are not to be missed.
2nd day Tuesday – FLORENCE/CHIANTI AREA
Breakfast at the hotel, morning and lunch at leisure. We can provide prepaid tickets to major Florentine Museums, to avoid long lines at the entrances, cooking classes or transfers to shopping outlets.
In the afternoon group excursion to Chianti area with food and wine tasting. A relaxing journey to discover Tuscany's traditional flavours and wonderful scenarios.
The visit will start in a typical farm in the heart of Tuscany, tasting genuine, local products such as extra virgin olive oil and cold cuts.
After a ride through the scenic roads of Chianti's countryside, stop at a cellar where a wine tasting with light snacks will be enjoyed in a breathtaking landscape. Third stop is in Monteriggioni, a lovely medieval town-fortress, with free time to wander through the narrow alleys of the village. The return to Florence is scheduled in the late afternoon. Overnight stay.
3rd day Wednesday – WINE TASTING IN FLORENCE
Breakfast at the hotel.
During the day, visit and wine tasting with snack at a winery downtown.
Overnight stay.
4th day Thursday – FLORENCE/SIENA AND SAN GIMIGNANO
Breakfast at the hotel, full day excursion to Siena and San Gimignano. A wonderful journey into Tuscany, to discover the medieval lanes of Siena, and taste Tuscan specialties.
The first stop is in Siena, suggestive world-famous medieval city, known for its splendid shell shaped Piazza del Campo, where "Il Palio" , the traditional horse race, takes place twice a year.
San Gimignano, known as "the town of 7 towers" is one of the most fascinating and better preserved Medieval towns of Italy. It is famous for its many coloured food shops as well as for the production of saffron and white wine "Vernaccia". Return to Florence, dinner at leisure and overnight stay.
5th day Friday – FLORENCE/MONTALCINO/MONTEPULCIANO E PIENZA
Breakfast at the hotel. Full day excursion to Montalcino, Montepulciano and Pienza. First stop is in Montalcino, famous for its superb red wine, Brunello. Wine tasting and light snacks.
Next town to be visited is Montepulciano, an ancient village full of Medieval and Renaissance buildings, where one of the oldest wines of Italy, The Noble, is produced. Wine tasting and light snacks.
Last stop is in picturesque Pienza, a UNESCO site and home of delicious "Pecorino" cheese.
Return to Florence, dinner at leisure and overnight stay.
6th day Saturday – FLORENCE/BOLGHERI AND SURROUNDINGS
Breakfast at the hotel.
Drive with your rented car to Bolgheri and time at leisure to discover this lovely little town and its surrounding (we suggest Castagneto Carducci). Wine tasting with snacks in a local winery to taste some of the most prestigious wines of Tuscany.
Return to Florence, car drop.off.
The part of Tuscan coast, southern from Livorno, known as Etruscan Coast, offers beautiful beaches and crystalline waters, but also a wonderful hinterland that is not to be missed. The precious tiny village of Bolgheri is situated at less than 6 miles from the seaside. We definitely suggest a drive along the famous Viale dei Cipressi (Cypresses Road). This is a scenic, straight road, about 5 km long, bordered by majestic and ancient cypresses which ends in front of the castle of Bolgheri, with its red bricks. The hamlet is located over this elegant castle, so beautiful and preserved that it seems to come straight out of a storybook for children. Bolgheri is a land of excellent wines: the most famous (and very expensive) are Sassicaia and Ornellaia.
7th day Sunday – FLORENCE/PISA AND LUCCA
Breakfast at the hotel. Full day group excursion to Pisa and Lucca. Pisa is worldwide known for its Leaning Tower and for its architectonic masterpieces, all concentrated in the famous Piazza dei Miracoli (Miracles Square): a guide will explain the wonders of this amazing site. At the end of the visit, time to take pictures and for lunch (not included) before departing to Lucca.
In the relaxing atmosphere of Lucca, visitors will enjoy a pleasant walk into the enchanting historical centre, to admire Piazza Anfiteatro, a peculiar amphitheatre shaped square, the Guinigi Tower, San Martino Dome and the typical "antique dealers street".
Wine tasting in Lucca.
8th day Monday – DEPARTURE
Breakfast at the hotel. End of our services. Transfer on your own to the airport.
The package includes:
7 nights in centrally located 3* hotels
Group excursions (in English) departing from Florence, which include transportation by private bus, tour leader, guided tours of the town, wine and food tasting as specified in the program
Car rental, taxes and insurances included
Our service and taxes
The package does not include:
transfers from/to airport to the hotel (we suggest to take a taxi)
meals
tips
tourist city tax (€ 3 pp pd approx)
Personal purchases and mini bar at the hotel
Tour starting from Monday to Monday, due to group excursions/cooking class schedule