Choose Tuscany for your wedding reception
We have to say that: Tuscany was born under a particularly lucky star… Among all the different places to get married in Italy, Tuscany is undoubtedly a magnificent region that, due to its history and…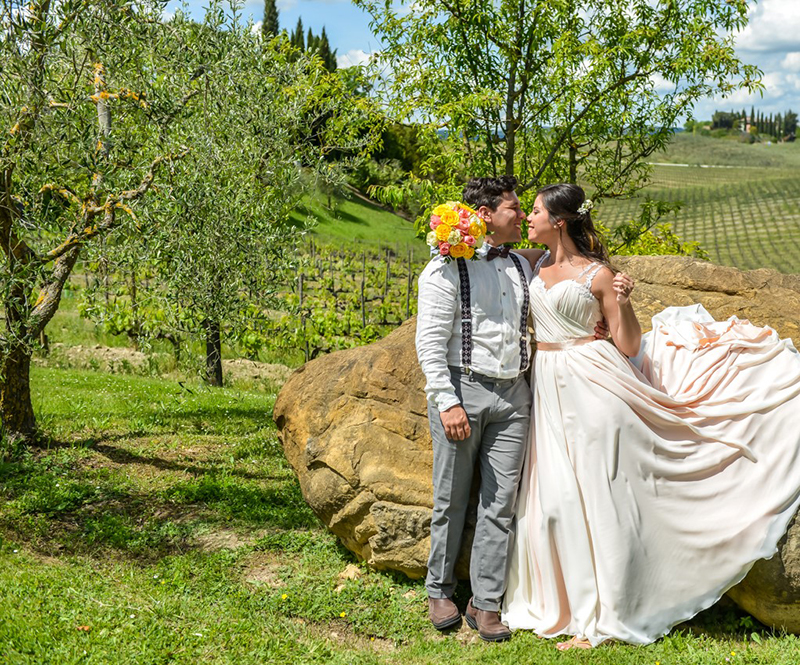 We have to say that: Tuscany was born under a particularly lucky star…
Among all the different places to get married in Italy, Tuscany is undoubtedly a magnificent region that, due to its history and geographical configuration, embodies all the essential characteristics to create a unique wedding ceremony that will remain indelibly imprinted in the memory of all participants.
Beautiful town halls, or even medieval villages, look like places designed to host an evocative wedding. Whether you want to say the fateful "I do" in front of a breathtaking panorama of hills, in a tiny, romantic chapel, in front of the sea with the romantic sound of the waves at the sunset, or in the courtyard of a medieval castle that dominates an endless valley, the choice of the best wedding venue solely depends on the wishes of the couple.
If, in the collective imagination, Tuscany means pines, cypresses, olive trees and vineyards, then surely one of the most beloved and best known areas is Chianti, the wonderful countryside which extends between Florence and Siena.
But also other areas of Tuscany deserve the proper recognition: the immortal and fascinating art towns like Florence, Arezzo and Siena, the large, rural area of Maremma, the charming Val d'Orcia and the captivating Crete Senesi.
The list of places of rare beauty extends to infinity!
In all this abundance is therefore easy to find a variety of ideal locations for your wedding reception, where the romantic, the rustic and the luxurious are often mixed together.
Medieval villages adorned by a lush Mediterranean vegetation, Renaissance villas, surrounded by beautiful formal gardens, aristocratic palaces converted into luxury hotels in art cities, farmhouses skilfully restored preserving intact the taste of old times, are only some examples.
Hosting your wedding reception in one of these locations will surely enhance the significance of your wedding and will make it a one-of-a-kind, memorable event.
And if you need some help, feel free to contact us or discover our special wedding package for two in Tuscany!