Liguria: peace, romance and gourmet tradition
Culture, unspoiled nature, impressive mountains, lovely rolling hills coloured by the green Mediterranean turf and crystal clear sea: all these elements blend at perfection in a small region of Italy called "Liguria", located in the northwest…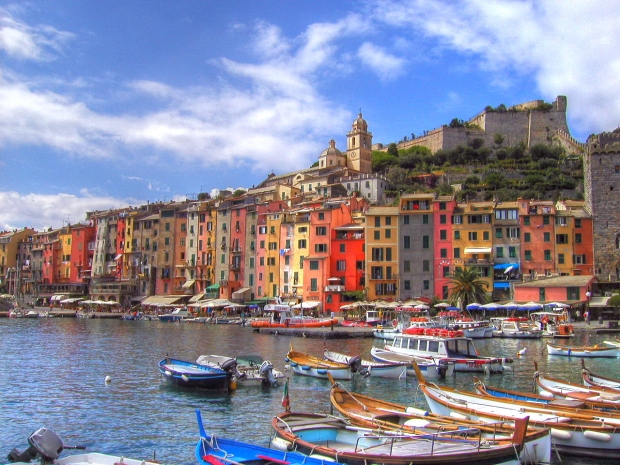 Culture, unspoiled nature, impressive mountains, lovely rolling hills coloured by the green Mediterranean turf and crystal clear sea: all these elements blend at perfection in a small region of Italy called "Liguria", located in the northwest part of Italy, bordering with France.
Liguria is famous mainly for Portofino, elegant, small town symbol of "Dolce Vita", Portovenere, the "pearl of the gulf", where British poet Lord Byron lived for a period and composed some of his most romantic poems, and Cinque Terre, a series of ancient picturesque fisherman's villages.
Their coloured, small houses, surrounded by lush nature, mix their iridescent colours with the deep blue of the sea, creating a unique scenery.
The five (cinque) villages composing Cinque Terre area are Monterosso, Vernazza, Manarola, Corniglia and Riomaggiore, from where the famous "Path of Love" (Via dell'Amore) departs.
This is a trail excavated on a cliff that plunges into the pristine waters of the bay and, due to this peculiarity, it seems to gracefully walk on the water.
At sunset, in peace and tranquillity, it is common to see dolphins barnstorming… have you ever imagined such a romantic place?
But that's not all!
Liguria boasts a gourmet tradition that has nothing to envy to more famous regions: when we speak about local food, we immediately think to "pesto", a tasty sauce made with basil, pine nuts, garlic, parmesan cheese and extra-virgin olive oil.
Pesto is used to flavour pasta, in particular "trenette", a kind of local home made pasta specialty.
Liguria is also a region of vineyards and olive groves that produces excellent extra-virgin olive oils and quality wines and seafood and fish dishes are obviously renowned for their freshness and genuineness.
Finally, we cannot forget the local soft and thick "focaccia", a kind of white pizza-bred, plain with extra virgin olive oil, or covered with onion slices. A must to try!
If you want to experience all of this, find out more about our special tour or contact us!