Your dream wedding reception in Italy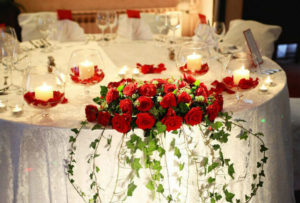 There is no place like Italy where good food is associated to happy events.
For Italian couples, the choice of reception location and menu is the main part of the wedding organization!
We are aware that many small details sum up to make a wedding party unforgettable and unique, that's why our attention and meticulous approach are our guarantee of success.
We create personalized wedding reception according to couples' expectations, in spectacular or more casual venues throughout Italy, all with high quality standards.
We have selected castles, villas, farmhouses and entire medieval villages overlooking rolling hills and vineyards in our beautiful countryside, at a seaside resort or in splendid art cities.
Properties such as castles and antique, exclusive villas can be rented just for the wedding day.
For those who prefer a less formal and more familiar reception party, we may organize it directly at their accommodation.
In any case, each event is unique for us, we take the utmost care of all the details, with the right choreography.
We work with professional caterers, who prepare superb meals in the purest local tradition; wines are carefully selected amidst the best that Italy offers; our patisserie masters create wedding cakes which are not only works of art but taste as spectacularly as they look.