Tasting Italy's recipe:Florentine style focaccia topped with grape
Hi Tasting Italy friends! Here in Italy September means grapes. And in Tuscany, one of the best wine regions in the country, mid-September is when grape harvesting begins and wine and food festivals that attract…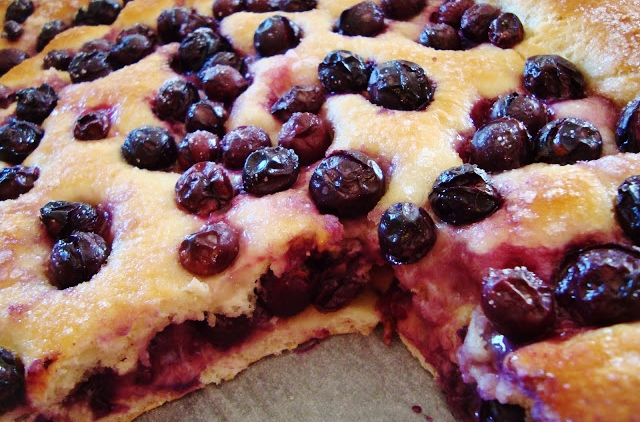 Hi Tasting Italy friends!
Here in Italy September means grapes. And in Tuscany, one of the best wine regions in the country, mid-September is when grape harvesting begins and wine and food festivals that attract visitors from all over the world kick off.
For anyone who wants to go on a real tour in Italy but doesn't quite have time to travel, you can still take part in this historic tradition by trying one of my favourite recipes.
Listed below is everything you need to make my Nonna's 'schiacciata con l'uva' – the most typical of seasonal desserts.
Note: Schiacciata means "flattened down" and in Tuscany the term generally refers to flatbread—what everyone else in Italy calls "focaccia".
Your cooking class Italy Ingredients include:
1 egg
1/2 cup (100 g) of sugar
1/2 cup of olive oil
3 1/3 cups (400 g) of flour
1 tablespoon of baking powder
Water sufficient to make a smooth, workable dough (about 1/3 cup)
1 kg (2 1/4 pounds) wine grapes (either white or red), stripped from their stems, washed and drained. If you can not find white or red grapes, Concord grape will work
1/2 teaspoon of freshly chopped rosemary leaves (optional)
Preparation:
Preheat oven to 200 C (400 F)
Mix the egg, sugar, flour, olive oil, baking powder, and enough water to obtain a fairly soft dough. Knead till smooth and roll out to make a sheet large enough to line and cover your pan — a bit thinner than a quarter of an inch thick (4-5 mm).
Grease a 9×14 cake pan (preferably a metal roasting pan) and line the bottom of it with half the dough, making sure that it reaches about an inch up the sides of the pan. Fill the pan with about 3/4 of the drained grapes; gently squeeze some between your hands as you add them, and leave the rest whole.
Use the remaining dough to cover the grapes – sealing them in with care – then spread the rest of the grapes on top of the schiacciata. Dust with sugar and bake it in the oven for about an hour, or until the crust is browned. When it is done it will be about an inch and a half thick; the dough is primarily a container for the grape filling.
Enjoy!!!
Visit our contact page if you are interested in finding out more about the cooking class to learn the real italian recipes!